Monster Arena
A downloadable game for Windows
This is a game about a knight trying to fight off evil monsters!
I would like to thank @Ethan's Pixel Art Shop, @ox72, and @Duckshorse for for making the game assets for my game!
Fix: Sorry! I uploaded the wrong file! Hopefully this works.
Comments
Log in with itch.io to leave a comment.
The game feels a bit laggy. You should fix that. The game is pretty nice. Nice job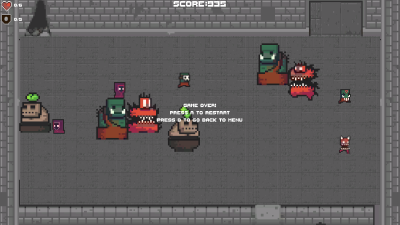 Thank you! Not sure about the lag part..
I meant buggy, sorry, The sword don't always kill the ennemies.